June 15th, 2006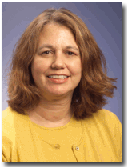 Dawn Wolthuis may be best known for her blog, but she's also taught college Math and CS and worked with one of the largest U2 vendors, as a customer before being an employee. She is now the President of Tincat Group.
Afternoon technical session: End-to-End AJAX - Dawn will provide an introduction to AJAX, the rich browser user interface that burst onto the scene in products like Google Maps and Gmail. The industry rush to AJAX has prompted many vendors to adjust their offerings, or at least their marketing literature, over the past year. So it might sound just like all the other fads that come and go, but there's a reason this one has staying power. Whether you have resisted diving into this acronym to date or have dabbled with it yourself, this session's combination of technical overview and juicy details has something for everyone. And what does AJAX have to do with MultiValue? A hint is in the title.

Afternoon slide presentation

Evening session: Is Codd Dead? - Dawn will outline some of her industry research including both historic and visionary perspectives on MultiValue. You might just come away with some MV Jujitsu tips to take on rigid SQL proponents.